Well, 2017 has been a year hasn't it? It's been full of ups and downs, it's certainly been a rollercoaster of a year. But it has been a year that I want to look back on for various reasons, so let's reflect on the twists and turns of 2017.
University
You all probably know that I graduated from university this year, as I haven't stopped banging on about it on my blog but it needed to be done ok?
The main piece of work in my third year was a 10,000 word dissertation, I got a 2:1 for it. I had never conducted my own research before so it was rather hard at times but the end result was worth all the stress, tears and mental breakdowns. I faced some personal challenges during that time but I got through them and didn't give up. It was the hardest piece of work that I've ever had to write so I am extremely proud of it!
My third year of university was definitely the hardest both personally and academically, there were several times when I didn't know if I could finish my degree but I was determined to graduate with a 2:1, and that's exactly what I did.
Graduation
My graduation day was something that I had been looking forward to for many months, graduating in York Minster was an incredible experience and one which I will never forget.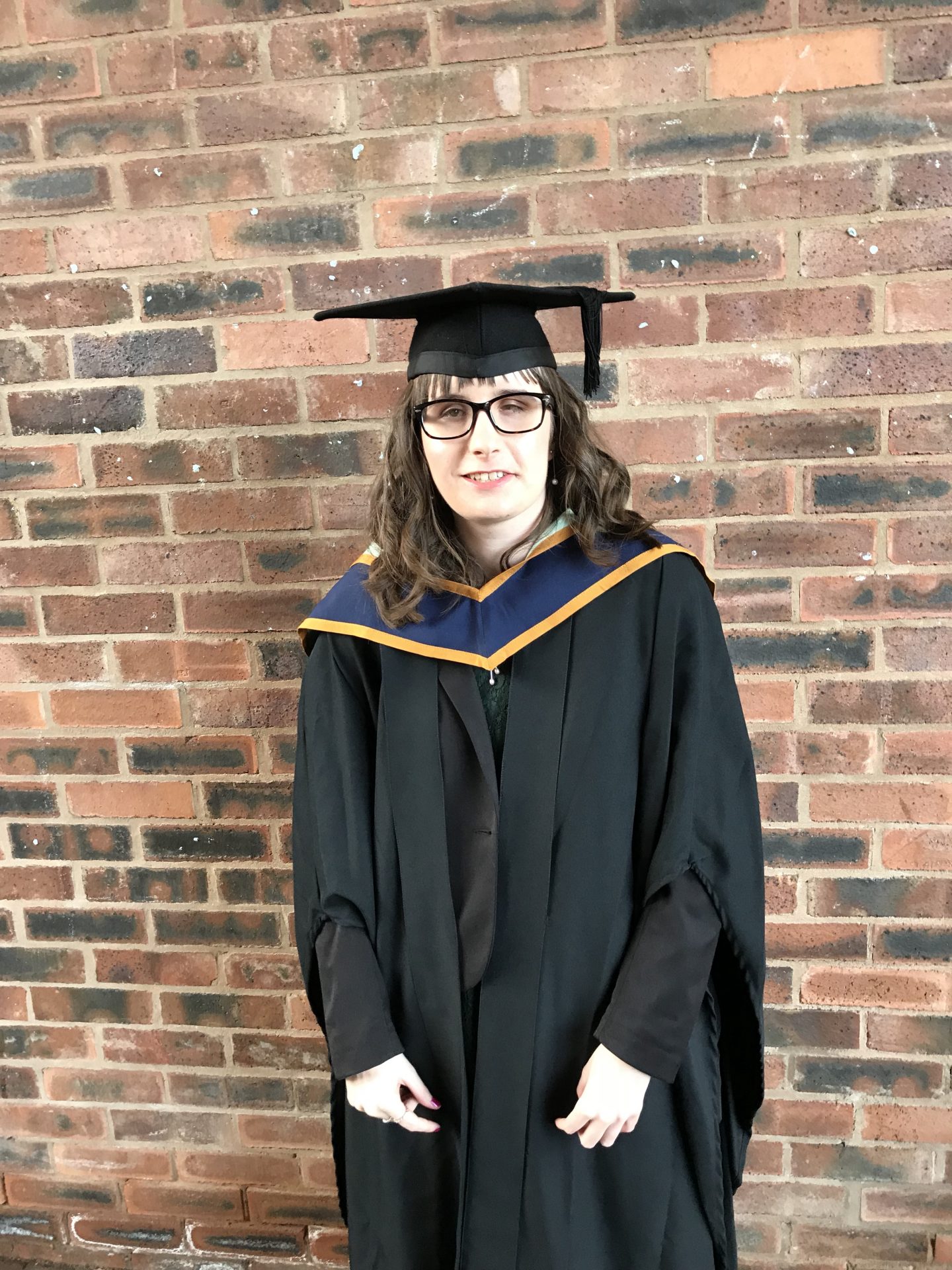 I was surrounded by my friends and family which made it even more special.
Being presented with my degree certificate was such a surreal moment, one that I don't really have the words to describe. I also got a braille copy of my degree certificate, I really wanted one as it meant that I could actually read it myself and it's something that I will treasure. I feel so lucky to have attended such an inclusive and accommodating university.
I wrote a post on my graduation day which you can read here.
Career
When I finished university in June, I knew that I wanted to work with children and young people with disabilities, but didn't really know what exact job I wanted, added with the fact that there aren't many jobs within that area where I live so I knew that it was going to be tough. I also knew that my disability was going to be a barrier, I knew that I couldn't just get any job to tie me over, and I also knew that employers may not look past my disability.
Luckily, I had a job working for a visual impairment charity for a few hours a month so that gave me something to focus on whilst I was job searching.
I had a few job interviews but wasn't successful. I even considered doing Postgraduate study, or changing my career path completely, but deep down I think I knew that I didn't want to truly do either of those things. I learnt that it's important to trust your instincts and keep chasing your hopes and dreams, I know it sounds cheesy but it's true.
In October, I applied for a job as an Assistive Technology Coordinator at York St John University, to my surprise I was invited for an interview and I got the job!!! I didn't expect to get the job at all.
I started my new job in November and I am absolutely loving it. It's a new chapter for me, and I can't wait to go back to work in 2018.
Blogging
I feel like my blog has really gone places in 2017, I've really found my niche in the world of blogging. I'm most definitely not the most popular disability blogger out there, and there are far better bloggers than me, but I feel like my blog has really become something and that my hard work has payed off.
In November, I took the plunge and decided to go self-hosted, I wanted my blog to look more professional and I wanted to make it my own. I don't earn any money from blogging so I obviously wanted it to be a worthwhile purchase and something that would benefit me and my readers. It was such a big milestone in blogging for me.
Blogging opportunities
I've had some great blogging opportunities in 2017, and I am extremely grateful for all of them. I've collaborated with some wonderful organisations and charities, I feel very lucky that they asked me to get involved.
The RNIB launched two #HowISee campaigns this year, and I was very Kindly asked to take part in both of them.
The first campaign was to highlight various eye conditions and also to tackle the common misconception that all people who are registered as severely sight impaired (blind) have no vision at all.
They asked me to film a short video of me talking about my eye condition and what I can see. This was out of my comfort zone but I rose to the challenge and I'm so glad I did. You can watch my video here.
They also launched a campaign on whether canes should be the universal colour of white or if coloured canes are acceptable, the campaign was titled 'the cane debate'. They asked me to write a blog post to share my opinions on the subject, I loved writing the post so make sure you check that out.
I was asked by Ability Superstore to write a post on my life with a vision impairment to help others which I was more than happy to do. You can read that by clicking this link.
I collaborated with RightHear and wrote a post on ways concerts can be made accessible for people with a visual impairment. Concerts and blogging are two things that I love so I absolutely loved writing that one! You can give that a read if you fancy.
I've also been featured in various blog posts and articles in 2017 which is amazing, thank you to every blogger, charity or organisation that has very Kindly mentioned me in a blog post or article, it means the world to me. Head over to my portfolio to see the full list.
Awards
At the start of 2017, if someone told me that I would be shortlisted for an award then I would have probably laughed at them.
In August I was contacted by Health Unlocked who suggested that I should be nominated in the Health Blogger Of The Year Awards, I had a look at the categories and thought that the Health Blogger Of The Year suited me best. I asked you all on my social media to vote for me and I was told in September that I had been shortlisted for the award! I couldn't believe it, as I was up against some fantastic bloggers.
I didn't win the award but it was such an achievement for me to be nominated in the first place.
Independence
I feel like 2017 has been the year that I've really started to feel independent and a lot more confident. Don't get me wrong, I've always been rather an independent person but I feel like it's been taken to another level this year.
Why do I think this you may be asking? This is because I've been travelling a lot more on trains by myself and using passenger assistance. However, passenger assistance only turned up once out of the many journeys that I did throughout the year, despite them all being pre-booked well in advance. I've been trying to raise these issues with train operators as some of the experiences that I've had have been rather shocking, and a complete shambles. I haven't let these bad experiences knock my confidence though, and I will not let issues like this stop me from living my life just because I have a visual impairment.
Amazing memories
I've made some amazing memories with my family and friends this year. I had a weekend in Manchester with my best friend Elin back in March, it was full of laughs, inside jokes and late night chats.
I also went to Elin's for a few days in the summer, which was lovely and I really enjoyed spending time with her and her family. We visited a few places in her local area which was really fun.
I went on holiday with my Mum and Dad in August which was lovely, we also had some very nice days out throughout the year.
Concerts
If you've been reading my blog for a while now then you might know that I absolutely love Concerts, they are one of my favourite things. There's really no other feeling like seeing your favourite band or artist live.
I have been to three concerts this year and thoroughly enjoyed all of them.
Back in April, I saw Shawn Mendes on his Illuminate World Tour with Elin and oh my, he was incredible! As we both have a visual impairment, we got assistance to and from our seats by the arena staff who were very friendly and happy to help us.
In July, I saw Olly Murs with my Mum. I've seen him once before and he always puts on a good show, so it was a really fun night.
My final concert of the year was Jessie J. Many of you will know that Jessie J is my all-time favourite artist, she had taken a break from music for a while but released some new music earlier on this year which I absolutely love.
She announced that she was doing a small tour in October and I obviously desperately wanted to go. Me and my friend got tickets to see her in Birmingham and we had the best night! Her vocals had somehow improved since the last time I saw her, she was so genuine and honest and it was all round an amazing concert.
I can't wait for her next album and to see her live again hopefully in the near future.
Health
You may be aware that I have had some problems with my eyes for around 18 months and had two operations this year. It all started back in June 2016, one morning I woke up and my left eye was very red, swollen and sore. Things started to deteriorate further, resulting in me having to be referred to a Corneal Specialist towards the end of 2016. At one point, I thought that I was going to have to drop out of my degree until the following year as I couldn't be on the computer for too long before my eyes decided to swell up, look really red and were very sore. Luckily, this wasn't the case and I soldiered on.
At the start of January, I had to have an operation which was a steroid injection in the back of my eye to try and reduce the inflammation, this wasn't exactly the best timing as I was half way through my final year at university and had a huge workload. I couldn't really afford too much time off as it was a vital time of my degree and I knew that the workload would only get even bigger and things would get even more stressful.
I was told that the problems were due to scarring inside my left eye from operations that I had when I was a baby to try and stop my retina from detaching but they didn't work. My left eye is non-functioning meaning that I have no useful vision in that eye.
The injection reduced the swelling for a few months but things started to flare up again in April when I was preparing for my final assignments. Things were stressful enough without my eyes playing up again so this obviously added extra stress and worry.
I ended up having the same operation again at the end of August, in the hopes that it would reduce the swelling for a lot longer this time.
I may have to have it every one or two years depending on how things go.
I'm still on a lot of eye drops but as long as they continue to help, I don't mind.
This time next year, I'll hopefully be writing a post telling you all how things have really improved.
So there you go, a snapshot of my 2017. Another post will be up at the start of the new year all about my goals for 2018 so keep an eye out for that.
I would just like to thank you all for your continued support throughout 2017, it really means the world to me. Thank you for all of the likes on my posts, for all the lovely comments and emails, for following my social media, I love interacting with you all.
Thank you for making 2017 a great year for me and my little blog, without you none of this would be possible.
A huge thank you to my friends and family for being there for me throughout 2017, it means more than you know.
If you have any suggestions of posts that you would like me to write in 2018, then I'd love you to send me them, you can leave them in the comments or contact me.What has 2017 been like for you? Let me know in the comments.
Once again, thank you.
Wishing you all the best for 2018.
Holly x