14 November 2017 officially marked the end of my university journey, I became a York St John University graduate!
For those of you that don't know or for those of you that are new to my blog, I completed my degree in Children, Young People and Families at York St John University earlier this year and graduated with a 2:1.
I'd been looking forward to this day for a long time! Our graduation ceremony took place at York Minster which made it even more special.
Preparing for graduation
I started preparations for graduation back in August, I booked my student ticket and guests tickets, hired my gown, and paid for professional photographs to be taken on the day. I also made the relevant people aware that I would need support at the graduation ceremony as I am blind and would need a sighted guide when crossing the stage in order to collect my certificate.
I received a prompt reply saying that they could do this for me and that a steward or Marshall could be my sighted guide.
I didn't really want this, as I had someone in mind to be my sighted guide which was my Head of Programme, as she had been there for me all throughout my university journey, so I thought it would be a perfect ending.
They said that this might not be possible but would see what they could do. But luckily, it all got sorted.
In terms of an outfit, I bought my dress and shoes in September. It took me a while to find both as I didn't find anything that I liked or that would go with the gown that I had to wear. Panic really started to set in! I knew that my dress would be covered up by a gown but knew that I'd be going out in the evening so wanted something nice.
I had tried rather a lot of dresses on, but the one I chose was very comfortable and wasn't too expensive either which was a bonus. My Mum and Dad told me that I really suited the dress so that helped me make my final decision. I also really liked the feel of the dress. The dress is green, but it went with my gown really well.
It took me a while to find some shoes that I liked, and that were comfortable, but I finally opted for a pair of black heels as they matched my dress and gown.
Once my outfit was sorted I just had to wait for the day to arrive.
A couple of weeks before graduation I hadn't heard anything about my support arrangements, so I decided to chase this up. I knew that my Head of Programme was happy to be my sighted guide, but I hadn't had this confirmed by the university. Naturally, I wanted everything to run as smoothly as possible on the day so wanted everything in place beforehand.
I was told that this had been put in place and was given my instructions as to what to do on the day. The university were really helpful, but I felt like I kept having to chase things up and ask questions, so I do think they could have been a bit more prepared for disabled students like myself. Nevertheless, they were very accommodating.
On the day
Time flew by and before I knew it, graduation day had arrived!
I had my hair curled in the morning. I love having a reason to curl my hair, so graduation was the perfect excuse to do so.
I use the Babyliss Curl Secret as I find it accessible as a blind person, compared to the average curling wand. The Curl Secret does a great job, and my hair lasted the whole day.
Later on in the morning, I had my makeup done at the Mac counter at the Fenwick store in York. The lady who did it was lovely and did such a good job, I was extremely pleased with it.
I've never had a makeover before, so I was really excited to have it done and loved the end result! Graduation day was the perfect time to have my makeup done.
Once I had had that done, it was time to head to the university to pick up my gown and for me to have my professional photos taken.
Once I was all ready and had the photos taken, I met up with one of my friends and we had some pictures taken together. I know that I can't see the photos myself, but I love to keep them as memories to look back on in the future and I am also going to get some of them printed.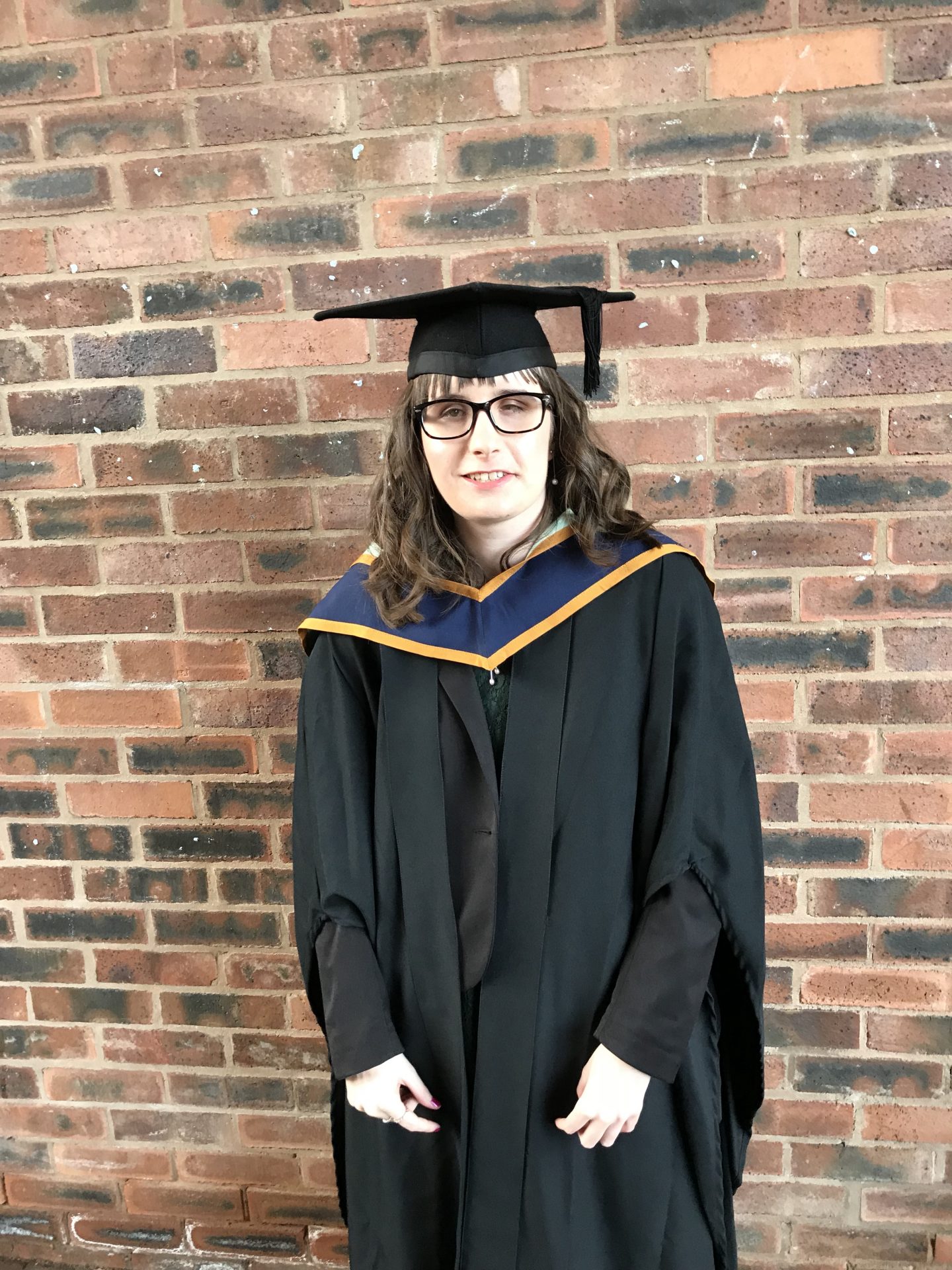 We then made our way to York Minster where I met up with the rest of my group of friends. We took some photos, had a catch up as I hadn't seen some of them since we finished university and waited around until we were allowed to go inside the Minster.
Once inside, we all made our way to our allocated seats and chatted to the people around us. We had to wait quite a while for the ceremony to start but time went quickly as we were all just too excited!
The ceremony started with the usual formalities and then graduates were directed onto the stage and awards were conferred by a handshake. The ceremony went a lot quicker than I thought, it seemed quite long towards the end as we were all very very cold but I thoroughly enjoyed it!
Our course was one of the first to be called up, so we didn't have long to wait until we were directed onto the stage and collect our certificate. It was so lovely to see all my friends and classmates collect their degree certificates, we have all worked extremely hard over the last three years and it paid off. A huge well done to the class of 2017!
When it was my turn, my Head of Programme came straight to my seat so that she could  guide me from there, the nerves really kicked in at that point. Before I knew it, it was my turn to walk across the stage…
We walked across the stage when my name was read out and the audience clapped, my award was conferred by a handshake from the Archbishop of York, I then had my photo taken with the Archbishop, was also congratulated by the Vice Chancellor and then walked off the stage to collect my degree certificate. I can't tell you how happy I felt!
We watched the rest of the ceremony which included some honorary graduates being presented with their degrees before it ended with us joining the academic procession to walk out of the Minster.
Once outside, I met up with my friends, we congratulated each other, and we then went to find our families.
Once we had found them in the sea of people, we decided to take some photos outside the Minster.
I took some with my family, and also some with one of my friends which included us throwing our hats in the air and (attempting) to catch them. It's gotta be done after graduation, right?
After all of this, we walked back to the university so that I could hand my gown and hat back.
I spent the evening celebrating with my family, we had a meal at Ask Italian which was a lovely way to end such a perfect day!
Now that it's all over, I've had time to reflect and really take it all in. It was such a surreal day, I wouldn't have changed it for the world, it's a day that I will never ever forget, I feel so lucky that I was surrounded by some of the most important people in my life who made the day even more special.
I've wrote quite a few posts on my university experience which you can check out here.
There were so many times when I didn't think I'd make it through my degree, I faced many challenges and was presented with various obstacles because of my visual impairment but I always found a way around them. I was also faced with a few health problems, including having to have an eye operation in the middle of my third and final year but I carried on no matter what life decided to throw at me.
My time at university had its ups and downs but I wouldn't change it for the world, it was the best (and most stressful) three years of my life so far. I was surrounded by such supportive people and made some lifelong friends.
My time at York St John University has made me more resilient, a hell of a lot more confident and I really have found my true self over the last three years.
So there we have it, a day I never wanted to end, my graduation. I never thought I'd get a degree, but I DID IT! I am officially a Bachelor of Arts graduate in Children, Young People and Families…wait, what?
I would just like to thank everyone that has been there for me over the last three years, you have helped me get to where I am today. I wish I could thank you all individually but this post is way too long already.
Thank you to my friends and family for always believing in me, for being there for me no matter what and for always supporting me, it means more than you know.
A huge thank you to all of my readers for allowing me to share my university journey with you, it means the world to me. Thank you for your constant support. I wanted to share this day with you all as you have been a part of this journey.
So that concludes today's post, I wanted to share my graduation day with you all as I previously said, you've all been a part of my journey. If you have a disability, I want you to know that it does not stop you from getting to where you want to be in life. Having a disability does not mean that you can't get a degree or achieve your goals, you may have to work that bit harder than others but you will get there, and trust me, that extra work is worth it in the end.
Have you graduated? How do you feel about university? Let me know in the comments!
Lots of love,
Holly x