Today's post is really special to me, as you can tell by the title, it's a guest post by my Mum and Dad. My blog is very much based around my own personal experiences, so I thought it would be nice to get my Mum and Dad's personal views and experiences on what it's like to have a daughter with a visual impairment.
I'm hoping that this post will help other parents out there who have a child with a visual impairment or another disability, and give you a bit of an insight into what it's like to be a parent of a child with a visual impairment.
It's a long post so get comfy and enjoy!
So without further ado, I'm going to hand over to my Mum and Dad.
Holly was born at St James's Hospital, Leeds, at 24 weeks, this is rather early considering a normal pregnancy is 40 weeks. She was born just after her twin Natalie who weighed 1lbs 4oz (567 grams), but sadly she did not survive, Holly's birth weight was 1lb 6oz (624 grams) which is less than a bag of sugar. She was tiny; we wouldn't have believed that a baby could be held in one hand.
For the first few weeks of Holly's life she was kept alive in an incubator.
Not to put too fine a point on it, Holly was fighting for her life. We were living off our nerves for weeks; it was honestly an emotional roller-coaster. My work loaned me a pager in case of emergencies, the days before mobile phones, yes there was a time before mobiles. The hospital only ever used it once early in the day, what a horrible sinking feeling when they tell us that Holly was not very well and they suspected that she had meningitis. We live some 30 miles away from Leeds and the hospital is in the centre, can you image the journey we had and the relief to be told it was not meningitis but just one of those things that premature babies do…
Part of the hospital routine health checks were eyes, where they found a problem, that Holly's retinas were not attached properly, this is in part due to the fact that the eyes are one of the last parts to develop, being born mega early creates the problem, then as oxygen is required for survival, the retina then puts a spurt on and grows fast, too fast, and does not attach properly, this is called Retinopathy of Prematurity.
After Holly was out of danger, it was decided to operate on her eyes and she was transferred to Leeds General Infirmary, we were advised that they were the specialists in that area. Anyway, they decided for some reason they could operate on just the 1 eye, as it was described to us as like trying to stretch and stick wet tissue paper. During the operation is the worst time ever, your tiny little girl who has fought to survive is now having an operation. We must have aged 10 years each hour of waiting. Finally, the consultant came through to tell us that Holly had come through the operation fine but wasn't sure it had worked. We will never forget that man, he was so indifferent and uncaring it was so unbelievable, he was telling us devastating news that our little girl had little or no sight and all he did was stare at a painting on the wall and even said "what a lovely painting, wonder where it is".
We were extremely upset, naturally but we both looked upon the situation as at least our little girl is with us, it could have been so so different.
There were other children in the Neo-natal unit of St James' that we got to know the parents and saw the little children who when we visited the following day were not around as the child did not survive. Strangely the staff told us girls were the survivors; we did find that to be the case.
Eventually Holly was allowed to be moved to our local hospital Special Care baby unit, where Holly remained until her actual birth date. The day she finally came home was a day to remember, not only for the fact our little girl was coming home with us for the first time, but was the worst overnight snow in living memory, we had to dig the car out – literally.
Holly's formative years were sometimes eventful, once the Social Services are aware there is a 'blind' child in the family, they seem to do everything they can do to take over your day to day family, but we were firm. But we treated her as you would any child and she played as others did. She rode a bike, had pets, helped her Dad in the garage using tools, and took the dog for a walk. We did not wrap her up in cotton wool and mollycoddle her. One amusing thing that Holly did, most kids learn by 'cause and event', Holly kept pushing the eject button on the video recorder, out the cassette holder popped, push it back in, repeat, repeat. Then she used it as a toaster , she filled the video recorder with toast!
Mainstream education
Holly went through mainstream school from primary right through to Sixth Form, she had teaching assistants, who were brilliant, and they remain both Holly's and our friends even now. We had regular meetings with the SENCO (Special Educational Needs Coordinator), Qualified Teacher of Visual Impairment (QTVI) and other members of staff to ensure that everything was in place for Holly. She learnt braille and how to touch-type which are two invaluable skills.
Holly took up many hobbies including swimming, brownies and learnt to play the flute. As she has no useful vision, she had to learn braille music which is a skill in itself. We had to find a way to put printed music in braille, so applied for a grant for an embosser and the relevant software from The Amber Trust in order for us to be able to do this. Holly joined a band and took part in concerts all across our local area, she even performed a couple of solos at some concerts. It's very important to let your child carry out their interests, even if they do have a visual impairment.
Holly really enjoyed primary school, she achieved good grades and had a busy social life. Her Teaching Assistant put the work into an accessible format and adapted materials for her, she did a remarkable job.
Secondary school
We had all kinds of issues at secondary school, to say some Teachers who are clearly intelligent people to be in the roll they have, can be extremely thick, we had constant battles, we ended up having quite a few after school meetings, to point out issues. They had to constantly be reminded of simple things. A couple of examples, 1 teacher put a video on and told the children to watch the video then write about what they'd seen. Science lessons were not adapted – that's like saying let's play with a Bunsen burner with our eyes closed. One of the PE teachers thought that it would be a good idea to learn what it's like to be blind, but making all the children put a blindfold on, and then run around the gym…
It was clear that Holly disliked sixth form, however her Teaching Assistant was incredible and put everything into an accessible format for her and fought for what Holly was entitled to. She always says that if she could do that time again, then she would go to the Royal National College for The Blind (RNC).
However, despite all the setbacks it did not stop her achieving 10 GCSE's , 3 A-levels and went on to study at university.
Gaining independence
Between finishing sixth form and starting university, Holly decided that she wanted to do some independent living skills (ILS) so she did some research and New College Worcester (NCW) said that she could go there and do exactly this.
She had a lot of contact with the Deputy Head and together they agreed a week and a plan of what she would be doing.
At the end of the week she had made some lovely friends, learned how to cook, clean, and other everyday tasks. She also enhanced her mobility skills by going on trains, buses and learning new cane techniques. She thoroughly loved her week there and enhanced her independent living skills which is vital.
Holly has always wanted to be independent, something we have always encouraged.
As well as going to New College Worcester, she has travelled alone by plane and regularly travels by train. Believe it or not the assisted train travel has been problematic, for example she went on her first train journey with her Dad as a trial using passenger assistance, the train company were incompetent and failed to turn up, since then this has happened quite a few times, as train companies seem to be incapable of communicating with each other, to the point Holly now uses her initiative to alight a train at journey's end.
University
University was in our opinion the making of Holly. However, it was not always a breeze, there were one or two teething troubles, but nothing like school, and mainly boiled down to thoughtlessness, this was soon solved when pointed out, which to be honest runs throughout life.
Holly worked extremely hard during university, she had to do various 5000-word essays and also in her third year had to complete a 10,000-word dissertation.
Although it was hard at times, she completed her degree and graduated with a 2:1.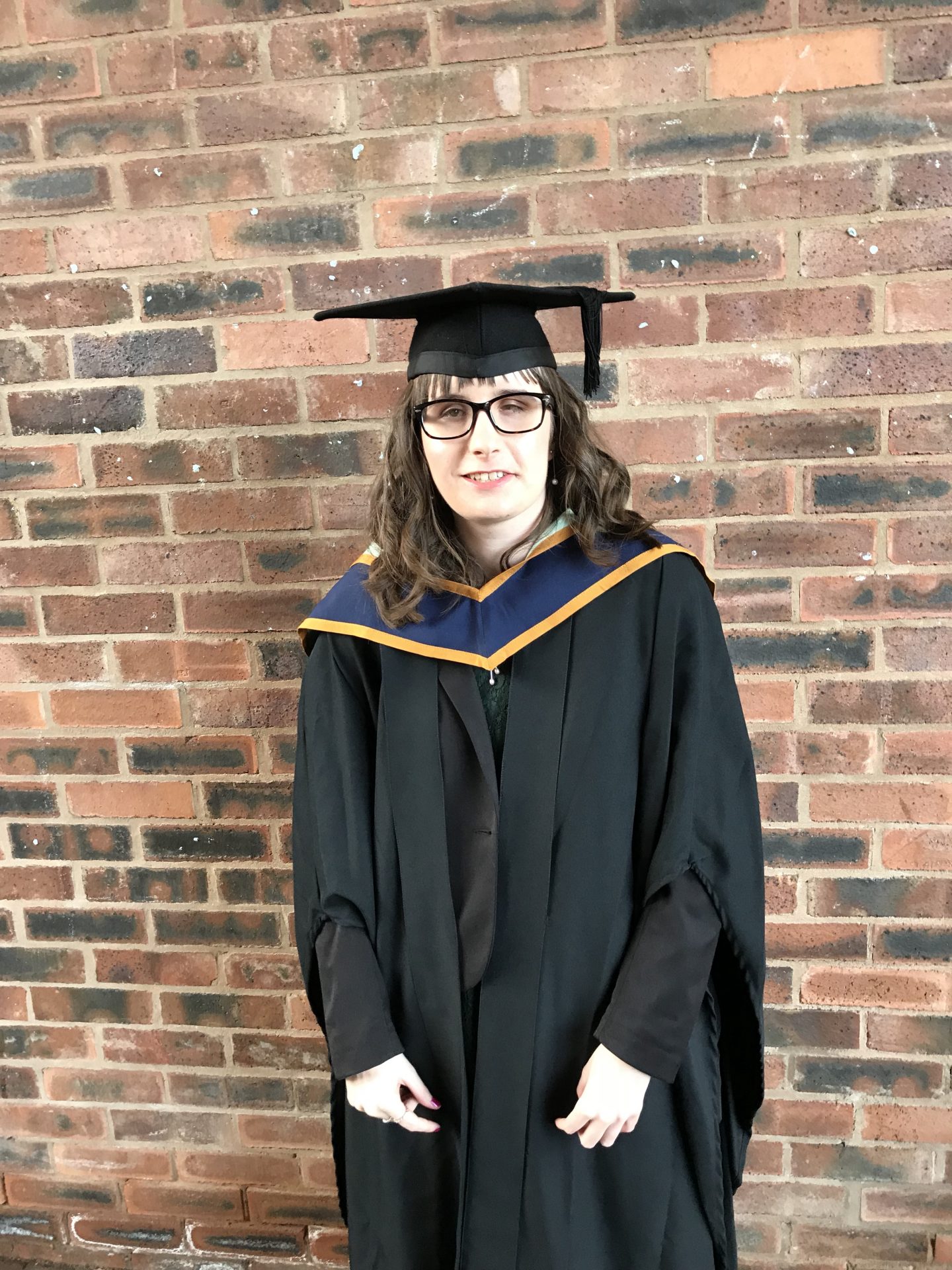 Employment
Once Holly had finished university, she spent the summer looking for jobs. She had a few interviews, but was unsuccessful. However, she learnt a lot from these and they gave her valuable experience.
Holly got a job as an Assistive Technology Officer in October 2017 and she absolutely loves her job. It's a varied role and something that she is very interested in.
Tips for other parents
Bringing up a visually impaired child is not something you can get a book or manual about, or read a leaflet on, it's pretty much trial and error, and one thing we would say to anyone bringing up a visually impaired child is ask yourself one question: 'how would I do that if I couldn't see properly?' Also, do not hide away. It's also extremely important to treat your visually impaired child as you would any other child, if they want to do a certain thing then let them do it. We live in a predominantly sighted world, so it's extremely important to let your child try things and take up hobbies, just like sighted children.
We would suggest that you listen to what you are being told by your child, the 'I am older and wiser' is not always the best. Certainly air your thoughts and suggestions, but do not dictate. Because you will find that their suggestions are just as valid as yours, let's be honest they are more up-to-date…
It's vital to let them live their life and be independent. Independence is key, and this sets them up for the future.
So there you have it, my Mum and Dad's perspective on my visual impairment. I feel so lucky to have such amazing, caring and supportive parents.
I'd just like to thank them for writing such a brilliant post.
I hope that this post has given you a bit more of an insight into what it's like to have a child with a visual impairment. I also hope that the tips that they have shared have been useful to some parents out there.
Do you have any tips that you would like to share for parents who have a child with a visual impairment or another disability? Let me know in the comments, I'd love to hear from you.
Thank you again to my Mum and Dad for writing this post, it really means a lot to me, I know how hard they worked on it!
Holly x