Okay, so I am fully aware that I have already wrote a post all about seeing Ed Sheeran live but if you read that post then you'll have gathered that I'm a huge Ed fan and that was one of the best nights of my entire life and I wanted to see him again, so that's exactly what I did! When walking out of the Etihad Stadium I said 'I want to see him again' and I wasn't even joking, did I think that I would get the opportunity anytime soon though? Of course I didn't. Ed's gigs are practically always a sell out, so I knew that getting tickets would be very difficult, or impossible.
Booking tickets
When booking the tickets to see Ed in Manchester, it never really crossed my mind about going twice, as I knew that they would be on high demand so I thought that I would struggle to get tickets for one date, let alone two.
I have been a fan of Ed since 2011 so finally being able to see him live was so surreal, I never thought that I would get tickets for a second tour date.
The following week after the Manchester show, I worked out which gig I wanted to go to and tried to look for tickets. I was hoping to go to Ed's concert at St James' Park in Newcastle on Saturday 9th June.
Like all his shows, more tickets were released for Ed's shows in Newcastle, I looked online but there weren't any decent seats available and there was no information on whether extra disabled access tickets would be released or not.
I decided to contact the venue who told me that all disabled access tickets had sold out, but they didn't tell me if anymore would be made available, so I wasn't sure what to do.
I also contacted Ticket Master's accessibility line, they are always really helpful, they didn't have any tickets available as the venue were selling them so couldn't help me on this occasion.
The official resale partner for the tour is Twickets so I decided to look online for any tickets that were available, there were rather a lot available which surprised me. As I have a visual impairment, I am entitled to get disabled access tickets which often means that I can get a free companion/personal assistant ticket, I have discussed this in my previous posts. However, there were no disabled access tickets available on Twickets for obvious reasons, this meant that I would have to buy two standard tickets which I didn't mind doing and was more than happy to pay the money. I thought that I would see if there was any way that I could get disabled access tickets as I would have been unable to attend the show without sighted assistance. I was very doubtful and was fully prepared to purchase two standard tickets.
As I've been a fan of Ed for a number of years, I know rather a lot about him, and know that his manager is very active on Twitter, so I decided to tweet him to ask whether he knew if any more disabled access tickets would be released for the shows in Newcastle. I got a quick response which I was surprised about, and he said that he didn't think so but told me to contact the venue again.
I called the venue first thing on the Monday morning and was told that they wouldn't be selling any more disabled access tickets. I was practically convinced that I would have to purchase two standard tickets which was fine. I tweeted Ed's manager and told him that the venue said that no more would be available, a while later I received a message on Twitter which was from his manager. He asked me to send him an email with my requirements for disabled access tickets, then he would pass it on to the promoters and they would see what they could do.
Even if I didn't hear anything back from the promoters, or they were unable to help me, I definitely felt like this was a step in the right direction as I've had some pretty rubbish experiences with promoters for other artists.
A couple of days went by and I was constantly checking my emails to see if I had received one from the promoters! I kept tweeting Ed's manager to say that I hadn't heard anything, but he kept reassuring me that they were looking into it and that they would be in contact. I kept thinking to myself that 'no news is good news right?'
On the Wednesday, I received an email from the promoters, they said that they were looking into it for me and would be in touch as soon as they had sorted some tickets.
Less than two hours later, I received another email from the promoters saying that they had managed to reserve two tickets for me, and all I had to do was go online and pay for them. I was absolutely ecstatic, I had to read the email several times as I couldn't quite believe it. It was a very easy process, I didn't encounter any problems whilst purchasing the reserved tickets. As the show was a matter of days away, I had to pick the tickets up from the box-office at the stadium on the day.
I did not expect to get tickets this way at all, I only tweeted Ed's manager to ask a quick question, I never thought that he would be able to help me, but I am extremely grateful that he did, I wish more artists managers were like him. I'm not saying that this is the way to try and get disabled access tickets all the time and this is most certainly a one-off opportunity for me, but it's very reassuring that disabled fans are valued just like non-disabled fans by some artists, management companies and promoters.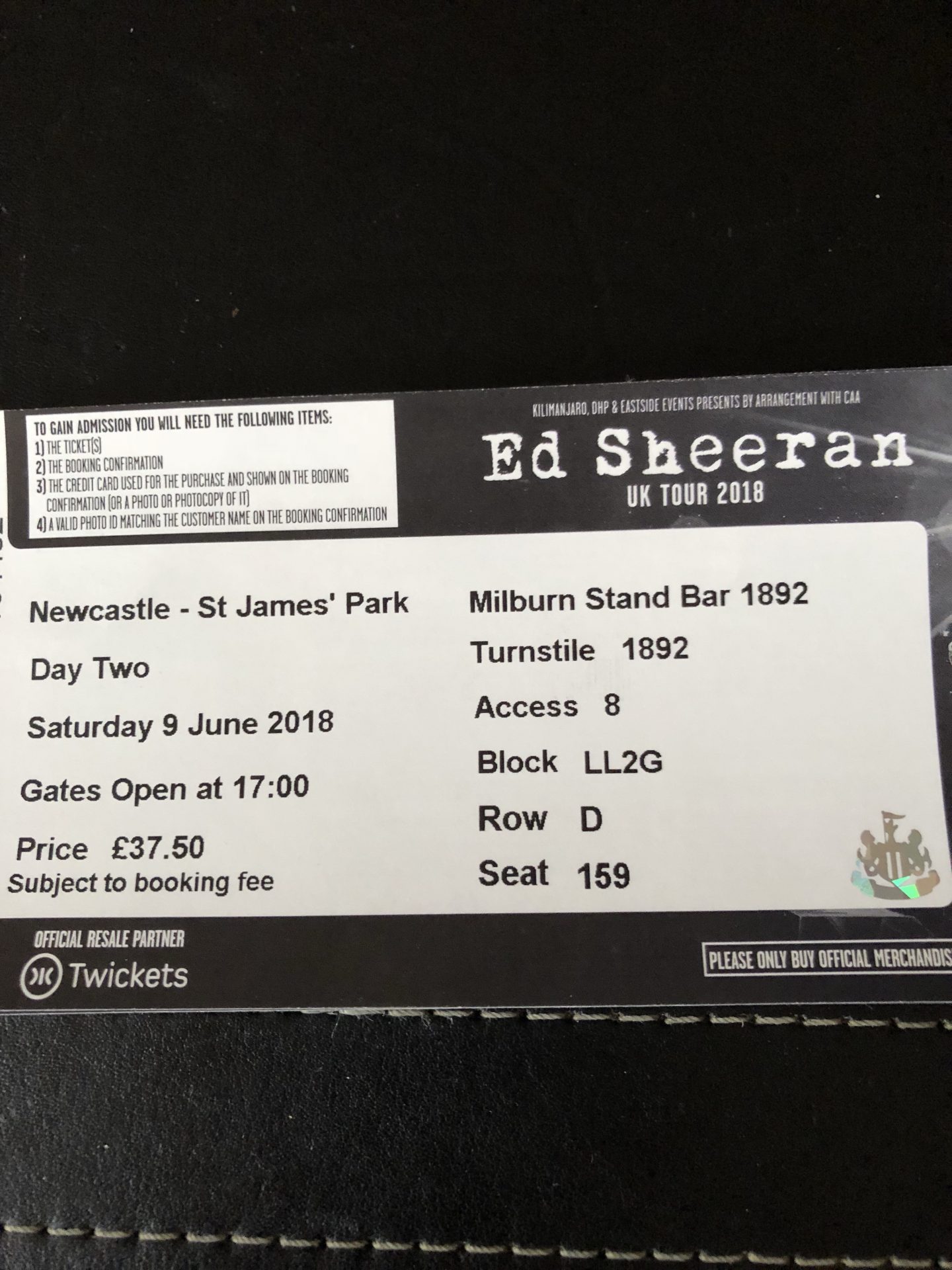 The concert
Saturday 9th June quickly came around, I woke up feeling just as excited as I had done when I went to see Ed in Manchester, I got ready and we made our way to Newcastle. I went with a very good friend who I have known for a long time, so it was a lovely memory for the both of us which I know we'll both remember for years to come.
We arrived in Newcastle with no problems and made our way to the stadium. We thought that it was best to pick our tickets up from the box office before going to get something to eat, just in case we encountered any problems. We headed to the box office and collected our tickets, it didn't take long at all and there were no issues whatsoever.
Once we had collected our tickets and felt more at ease about the whole thing, we decided to go for something to eat.
St James' Park is in the centre of Newcastle so there's no shortage of places to eat. We decided to head to The Gate which is a shopping centre, we decided to go to Pizza Hut, however we didn't expect that there would be such a large queue. We waited quite a while and eventually got a table and ordered our food. The food took a while to arrive as it was very busy, we were a bit worried that we would be a bit pushed for time, but everything worked out.
Once we had had our food, we headed to the stadium for the gig.
We found where we needed to go to get to our stand and didn't have any problems doing that. The strange thing was that we had to go through the bar to get to the area of the stand that we needed, nevertheless we found our seats and sat down just before Jamie Lawson came on stage.
Jamie had improved since I saw him in Manchester, I only knew a couple of his songs, but he put on a good set.
I couldn't wait to see Anne-Marie again, she came on stage at 7.30pm. I thought she was amazing in Manchester, but her vocals were even more flawless in Newcastle…she's an absolute queen!
I love her bubbly personality and how confident she is, she put on an amazing set yet again. She performed a range of songs from her debut album and also her well-known singles. I would love to go to her headline tour one day.
The man himself (Mr Ed Sheeran) came on stage at 8.45 and the crowd went wild but what do you expect? I felt exactly the same like I did at his show in Manchester, extremely excited.
I discussed the set in-depth in my previous post, so I won't do that as much in this one, he performed the same set which I most certainly wasn't complaining about. The crowd were buzzing, it was by far a louder crowd than Manchester, I have no idea why but you could really tell. He said that we were "lively".
I don't want to repeat myself too much from the last post, but every performance was amazing, the passion that Ed has for his music shines through and I love that about him, he's so grateful to be doing what he's doing. He says that he loves stadium shows the most as he's able to see everyone singing, dancing and having a good time, and that's definitely true.
Ed sang 18 songs, the set lasted 1 hour and 45 minutes, the show finished at around 10.30, which I thought was very good going for one guy and his guitar.
I love reliving the moments and love sharing them with you, so I have put together some audio clips from the show which I wanted to share with you. This is my first time doing something like this, so I would really appreciate it if you could check it out. I found it very hard to cut such an amazing show down as I wanted to put it all in, but I managed to select 25 minutes of footage for you all. So, grab a cuppa (or if you're like me and don't drink tea then get your favourite drink) and enjoy!
Even though I've seen Ed twice now, I can't choose which song I love the most, there were some truly amazing moments which included the crowd singing along to The A Team, Thinking Out Loud, Perfect, Sing and all the others was truly magical and it gave me goosebumps.
There were times when I couldn't believe that I was actually seeing him live for the second time in just over two weeks, it was so unexpected and so last minute but I loved every second! I still can't believe that I've gone from being a fan of his since the very beginning to seeing him live twice in less than two weeks, I feel very lucky and extremely grateful.
He said that 'Sing' was his final song, and the crowd participation during that song was phenomenal, hearing 55,000 people join in was sensational!
It was obvious that everyone was there to support Ed and enjoy the show, there's something really special when the whole crowd sings the songs back to the artist.
He came back on stage to do two encores – Shape of You and You Need Me, I Don't Need You which were the perfect songs to finish an amazing night. His wraps in You Need Me, I don't Need You were out of this world!
Here is a video so you can tell what I'm talking about. It really shows how skilled and talented Ed really is.
Once the show had finished and he thanked the crowd for coming and told everyone to get home safe, we made our way out of the stadium and drove back home.
The atmosphere was electric, I still can't get over it. When I walked out of the gig at Manchester Etihad Stadium I said that was the best gig that I have ever been to but the Newcastle one somehow managed to beat it.
I had a sore throat after the gig from singing every word but it was definitely worth it!
I'd give anything to do it all over again, it was incredible. Ed's vocals were seriously something else that night!
Although I knew what songs the set consisted of and had a rough idea of what he would say in-between songs, I still thoroughly enjoyed the concert. In fact, we both left the stadium saying that we could do it all over again, it was out of this world.
IF you are going to any of the shows during the rest of the #DivideTour then you are most definitely in for a real treat, it's the best tour that I have ever been to.
If you are a fan of Ed then I recommend going to see him live, his shows are a whole new level of amazing.
It was a night that either of us will ever forget. I'll treasure the #DivideTour for so many reasons.
Are you going to the Divide Tour at any point? Let me know as I'd love to hear from you!
Holly x