It's safe to say that products and assistive technology for disabled people are continuing to be developed at a fast pace, but as a disabled person having some things that make my life easier and things that I use on a daily basis to complete tasks are the absolute best. I don't have unlimited funds or a money tree (if only) so I don't have every product or piece of assistive technology that's out there, but I thought I would share 21 things that I couldn't live without.
This is just my personal list, and it will more than likely vary for every blind or visually impaired person but I hope this post is an interesting read and might help some of you out there that have maybe recently lost your sight or coming to terms with sight loss.
So without further ado, let's get into the post.
1.      Long cane
I've done a few posts on the cane, you all know how it took me a while to accept using a cane, you can read my post here. However, a few years on and I couldn't live without my cane.
It is my key to independence, it's an extension of me and my freedom. It gives me the ability to get around confidently and independently.
2.      iPhone/iPad
I use my iPhone for a lot of things – calling/texting friends and family, checking emails, checking social media, blogging, research, booking train tickets, getting to where I need to be, listening to music, and so much more. So, it's pretty clear that my iPhone is extremely useful.
There are many apps that I use to enable me to complete daily tasks, some of these include: Tap Tap See, KNFB Reader, BlindSquare, Seeing AI, Google, Twitter, Facebook, Kindle, Spotify and Audible just to name a few.
My iPhone enables me to be independent as it has built-in accessibility features, I wouldn't be able to use one if it wasn't for VoiceOver!
I use my iPad for similar things – blogging, listening to music, reading, watching videos and a lot more.
3.      Laptop
Without my laptop, I would have found it incredibly difficult to get my degree. My laptop enabled me to write essays, do research, send emails and all the usual stuff. I've used a laptop from a young age and learnt to touch-type when I was around 6 or 7 years old so I definitely couldn't do without my laptop now, in fact, I couldn't do my job without one.
I use Jaws screen-reader and also VoiceOver on the Mac so I am pretty versatile when it comes down to assistive technology. I am also a confident user of SuperNova and NVDA.
4.      Braille display
I got my first braille display at university, oh how I wish I'd had one sooner! A braille display allows me to read documents in braille and also type using the braille keyboard if I want to. This is great for me as my eyes often get sore if I've been looking at a computer for too long so it really helps me to just look away from it and read the document using my braille display. They are also an excellent way of proofreading work, I used it to proofread all of my assignments and essays at university, and now use one at work and also often use it for proofreading blog posts as well.
5.      Apple Watch
When I first saw the Apple Watch in a shop I wasn't sure on it at all, I had talking watches in the past and never really got on with them. However, the Apple Watch connects to your phone so that it notifies you of all your notifications, tracks your exercise and tells you the time. Like all Apple products, the watch includes accessibility features so it is fully accessible. One of my favourite features is the option to get the watch to discreetly vibrate the time to you, it uses Taptic Engine to do this. This feature is especially useful if you are in busy places when you can't hear VoiceOver or if you are in a meeting and you don't want VoiceOver to announce the time. I also love being able to access my notifications easily if I don't have my phone to hand.
6.      Bus pass
Having a bus pass means that I can travel on buses for free and often have a companion travel for free with me as well.
7.      Disabled person's railcard
A disabled person's railcard means that I get 1/3 off a train journey and so does a companion if I am travelling with a friend or a family member.
8.      Blue badge
Having a blue badge means that my family can park in disabled parking spaces when we're out and about, we can often park nearer to where we are going. I also find this great when I'm being dropped off somewhere that I know quite well and I am able to navigate from the parking space independently.
9.      OrCam
I know that I am extremely lucky to have an OrCam as they are very expensive. The OrCam reads printed text, recognises faces/products, reads barcodes and detects colours. My favourite features are the read text function, product recognition and colour detector.
10. Liquid level indicator
I don't use the liquid level indicator all the time, I don't really use it when pouring cold drinks as I have other methods to do this but it is especially useful when pouring hot drinks.
11. Oven glove
A bit of a random one but stick with me please. No one wants to burn themselves when cooking do they? An oven glove prevents you from doing this, it's extremely useful for blind and visually impaired people like myself.
12. Talking scales
These were something that I used in school all the time in cooking lessons, I don't own a set now as I don't seem to have the time to do baking but I'm sure that I will get some in the future.
13. Signature guide
For those of you that do not know what a signature guide is, it is a piece of plastic with a rectangular hole in the middle. You place the guide on a document, hold it with your free hand and write your signature on the paper in the rectangular hole. The signature guide means that you can get your letters a similar size and means that you know where to write which can often be difficult to do if you have no useful vision. I find that the signature guide makes signing documents a lot easier.
14. Radar key
Having a radar key means that I am able to use a disabled toilet if I need to when out and about. I don't use the disabled toilet all the time, but it is extremely handy at busy places.
15. Bumpons
Bumpons are very useful for marking certain items. For example, I use a bumpon on the oven to indicate the average temperature so that I can move the dial to the required point when cooking something. I also stick them on products that feel the same such as beauty products, then I know the difference.
16. Amazon Echo
I absolutely love my Alexa, it's fully accessible. I use it for all sorts of things – reading, listening to the news, listening to music/the radio, setting timers and so much more. Me and my family definitely wouldn't be without Alexa now.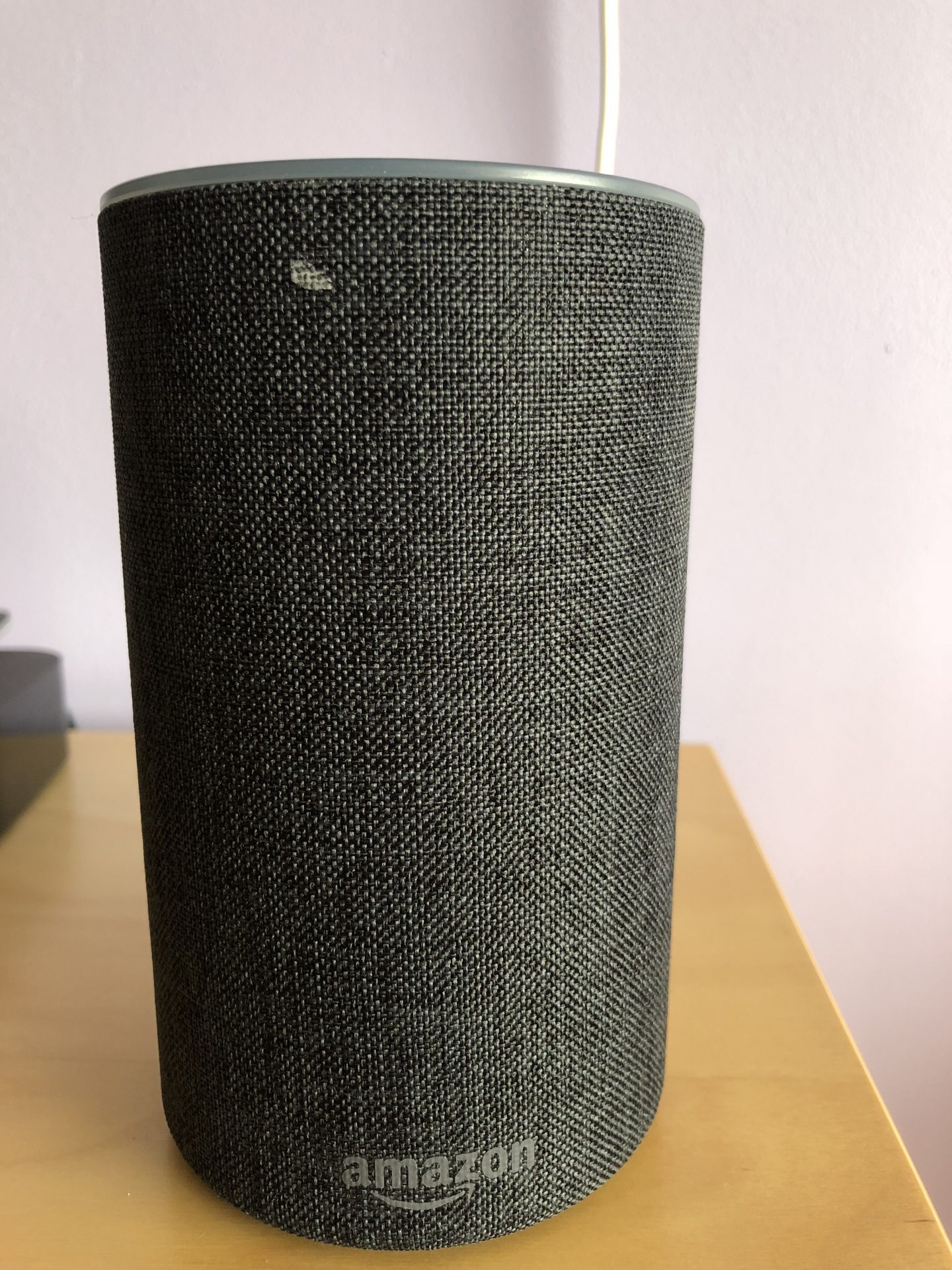 17. Earphones
These are essential for me as a blind person. I use earphones all the time, not only when I'm listening to music when I'm out but for listening to my screen-reader in certain situations such as work. It's really important to get a good, comfortable pair of earphones if you use them often.
18. Glasses
Although glasses don't help my vision, they stop my eyes from being less sensitive to bright lights and the sun and are necessary when I'm using my OrCam.
19. Sunglasses
I have become very sensitive to sunlight over the last couple of years which I talked more about in my post on Phthisis Bulbi. The sun really affects my eyes so my sunglasses are definitely a necessity.
20. Eye mask
My eyes can often get very sore, red and swollen so I keep an eye mask in the fridge and put it on whenever this happens, it really soothes them.
21. Eye lotion
I'm often rather skeptical about using eye products because of my visual impairment, however I use the Liz Earle Eye Bright Soothing Eye Lotion which helps make my eyes feel refreshed on days where they're playing up. This lotion is also great when they get tired or when I've been sat in front of a computer for a long period of time.
Those are some of the products that I couldn't live without as a blind person, what are some of yours? Let me know in the comments, I'd love to hear from you.
Holly x