One of the aims of my blog is to educate people on sight loss and disability, so I thought I would share with you 10 things I want non-disabled people to know from myself as a disabled person.
I got the idea for this post from the lovely Chloe, she wrote a post on this topic which I got involved in, but I thought I would create my own list.
This post is not meant to cause offence, it is simply just an educational post.
I know that my thoughts and opinions do not relate to all disabled people, these are just my own thoughts. It's important to remember that not all disabled people are the same.
I hope this post is informative, educational, raises awareness and tackles some of the common misconceptions surrounding sight loss and disability.
1.      Disabled people are not automatically inspirational.
One of the first things that non-disabled people say to disabled people is 'oh you're so brave/inspirational', come on, is that really the case?
Disabled people go through a lot, but it does not automatically make us inspirational. Think about it, what does the word 'inspirational' mean? Is it your average disabled person doing an everyday task, or is it someone doing something amazing? It's definitely the latter.
2.      We can be fully independent.
Just because a person has a disability, it does not mean that they are not independent. We may need to use a mobility aid such as a cane or a wheelchair, but that is our key to independence. Mobility aids give us greater independence, rather than take that away from us. From my own personal experience, I wouldn't be without my cane now.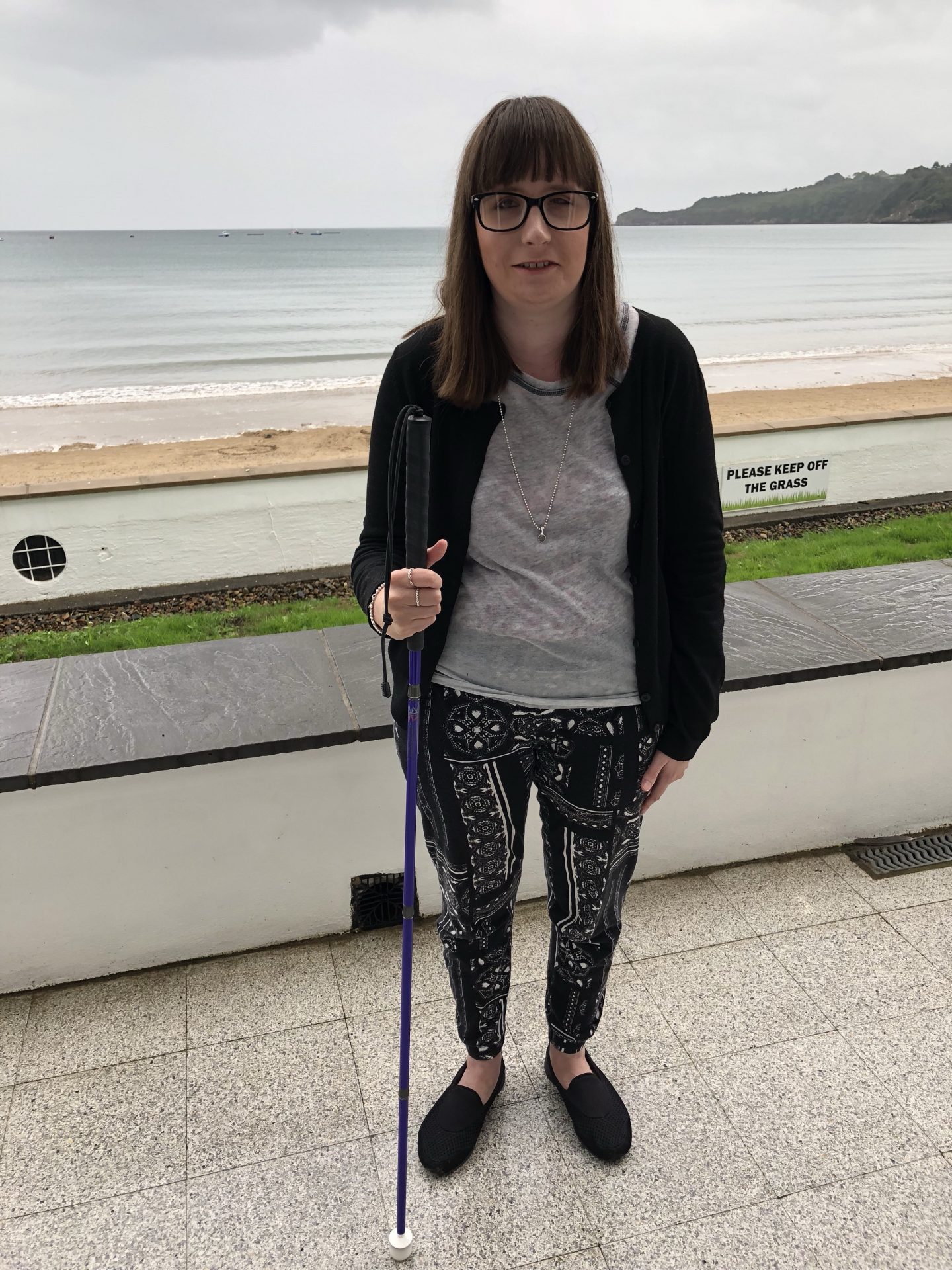 3.      We don't want you to be patronising.
You don't need to be surprised when I tell you that I have a job, or that I travel on public transport independently.
If you offer help to a disabled person, don't ask again and again, if we need help then we'll accept it the first time round. If a disabled person accepts your help then treat them like you would any other person, don't make a fuss. If you make a big deal out of it then they probably won't ask for your help again.
4.      We don't want your sympathy or pity.
There is a difference between sympathy and empathy, there are many ways in which you can show someone that you care, rather than looking down on them in pity. You may think that telling someone that you feel sorry for them is a way of being supportive, but it really isn't.
Listening to them, giving them a hug or spending time with them is a lot better than saying to someone how sorry you feel for them.
5.      Having a disability can have a positive impact on our lives.
There are many common misconceptions surrounding disability, one of these being that having a disability can have a negative impact on a person's life, this is far from the truth. Don't get me wrong, we face many challenges, but the positives outweigh the negatives. Having a disability can equip a person with some great skills and they can have many opportunities. For example, as I am registered as blind, I have learnt braille, how to use a long cane and can use a wide range of assistive technology, all of which I wouldn't have needed to do or use if I was sighted.
Being blind has given me many opportunities including volunteering, blogging and the opportunity to get involved in some campaigns for well-known organisation such as the RNIB and Scope.
6.      Telling us that we don't look disabled is not a compliment.
People sometimes say to me 'you don't look blind' and I never really know how to respond to something like that. What do you expect me to look like?
It really isn't a compliment.
7.      We are still human.
Disabled people have thoughts and feelings, and we are certainly not superhuman! Please don't stare at us or talk to us like we are not an average human being…it's just rude.
8.      We still want to be happy and successful, just like you.
Just because a person has a disability it does not mean that they don't want to achieve, succeed and be happy. We have wants and aspirations. We may have to go about things in a slightly different way and we may need adaptions, but we'll get to where we want to be!
9.      We can sometimes feel excluded.
Let's face it, the world wasn't made for disabled people. Therefore, we often face barriers and can be excluded in certain aspects of society. It's important to remember that making adjustments for disabled people is vital and it can make such a huge difference.
I often say that we live in a predominantly sighted world as I think that's the case, the world wasn't made for me as a blind person and I have to make adaptions to make certain things accessible.
10. WE are constantly fighting battles.
We may not always share it, but disabled people are usually fighting some sort of battle whether it's to do with education, public transport or employment, we have so many hurdles to overcome. We may need adaptions, but these do not take away the barriers that we face, adaptions simply enable us to do everyday tasks like everyone else.
The battles that I have faced and continue to overcome most certainly have contributed to the person that I am today, so it isn't always a bad thing.
There you have it, 10 things that I want non-disabled people to know.
What do you want non-disabled people to know? Let me know in the comments, I'd love to hear from you.
Holly x