I often talk about the common misconceptions and stigmas surrounding visual impairment and disability on my blog, thinking about it, I don't know how much this helps people that have recently been diagnosed with a visual impairment or other disability. Seeing the stigmas surrounding a disability must terrify them, I know it would me! So, I thought about how I write about my visual impairment on my blog, I try to be positive about it and I never sugar-coat anything.
I discuss some of the struggles that I face as a blind person such as accessibility issues or problems that I face on public transport and have discussed this several times on my blog, but I've never thought about how this would come across to a person that has recently been diagnosed with sight loss. I talk about these issues to raise awareness and educate society, but I also think it's important to try and help others which is something that I love doing. I mainly discuss the positives and share my own personal experiences of living with a visual impairment which I hope provide some sort of comfort and reassurance for people that have recently been diagnosed with sight loss.
I have no idea what it's like to lose your sight as I've been blind all my life so having no useful vision is all I've ever known, but I know what it's like to live with a visual impairment in a predominantly sighted world.
If you haven't read any of my other posts then you won't know that my visual impairment has made me who I am today, it's had such a positive impact on my life, you won't know how confident I feel using a cane now compared to a few years ago, you won't know how much independence it's given me and how good it feels. You also won't realise how invaluable the sight loss community really is. I'm the type of person that doesn't let my sight loss hold me back and I live my life just like everyone else.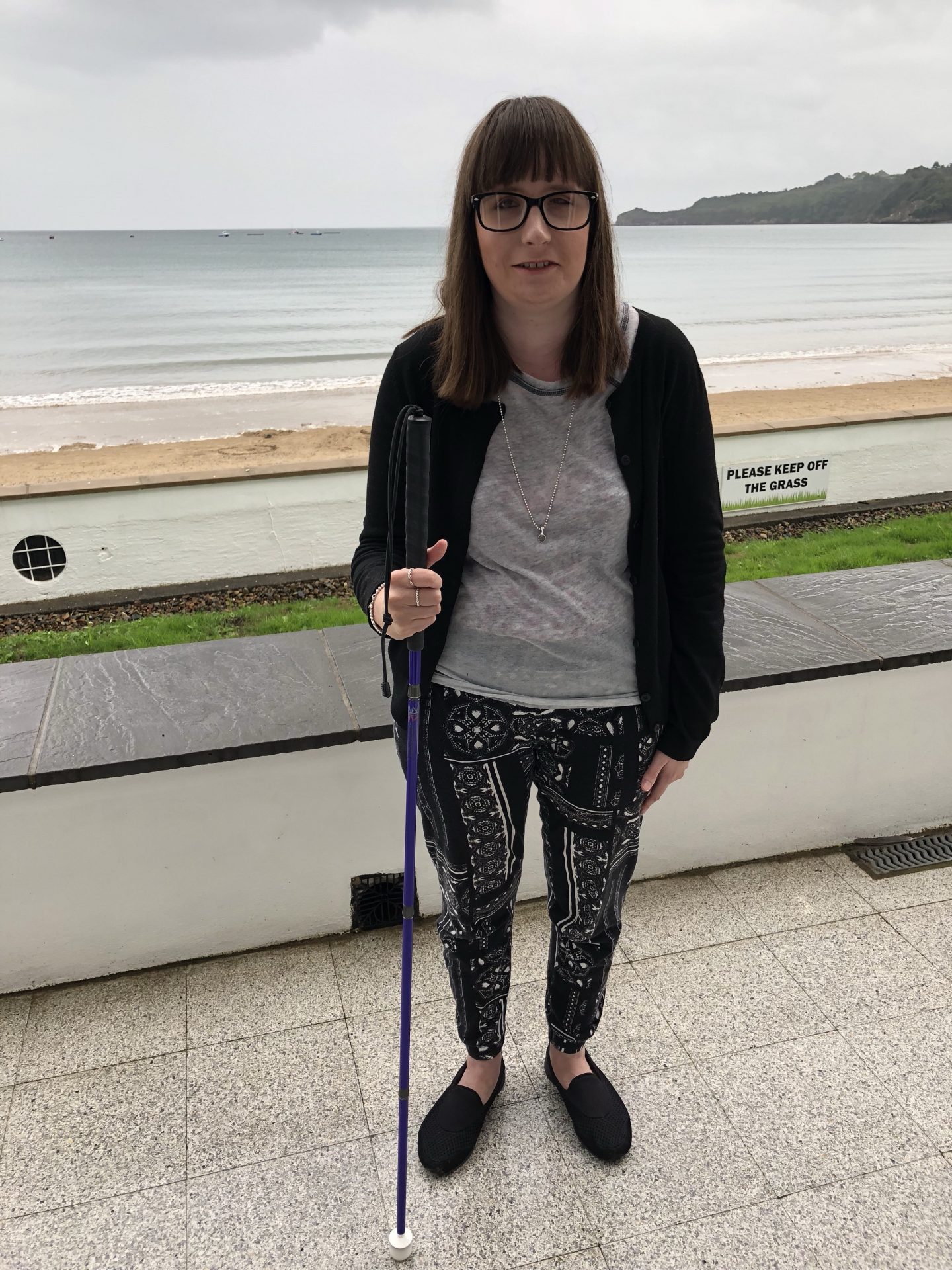 I don't know how you came across this post, how you're feeling about losing your sight, whether you've lost your sight yet or whether it's something that will happen in the future. I don't know whether you're feeling on top of the world, completely broken, scared, anxious, sad or a complete mix of emotions, it might not even be you that's losing your sight, you may be reading this on behalf of a friend or a family member because they are the one losing their sight.
I don't know how you feel about it all or what situation you're in but if it's you that's losing your sight remember that it is just the beginning, it takes a lot of adapting, it's not easy, you have to fight for your rights but if you can find your voice and remember that you're visual impairment doesn't stop you from being independent or having an enjoyable and fulfilling life then it's half of the battle.
You may feel lots of emotions and not know how to deal with them, you may ask yourself 'why me?' And you may feel like your life has taken a bumpy road, but it doesn't have to be like that.
When you have a visual impairment, chances are you'll have to do a lot of adapting, you will more than likely be encouraged to register your sight loss, attend various hospital appointments, you may want to learn braille, use assistive technology that you've never seen before, start using a cane, apply for a guide dog, get to grips with all this new terminology, put support in place, get to grips with experiencing the world with a visual impairment and so much more, sometimes you don't know where to start or if you even need all of this stuff, people may tell you that you don't but it's important to remember that you know your visual impairment better than anyone else so if you think it's going to have a positive impact on your life or it'll give you independence then who is to tell you not to grab it with both hands?
It's a given that you will come across people that don't understand your visual impairment, don't listen to you, and people who are just damn right rude but don't let them get you down.
Here are a few things that you should remember, these certainly help me if I'm having a bad day about my visual impairment. I've learnt these over the years:
• You aren't a burden
Embrace the new skills that you will learn
• It's ok to ask for help
• You are so much more than your disability
• You need to make your voice heard
• Fight for your rights
• Engage with the sight loss community
• Remember: if people are staring, you probably can't see them anyway, so who cares?
• Your mobility aid is Your independence
Not everyone will get it, don't let them get you down
A very controversial piece of advice that I would like to give is: make your mobility aid your own: whether you want a standard white cane or a coloured one, you can show off your personality/things you like through your disability.
There is a common debate that canes should be white but be true to yourself.
Accepting sight loss can be tough but you can learn to accept it and be comfortable in your own skin. It may get you down at times but there are so many ways that you can use it to your advantage, you can help others, raise awareness and educate people on sight loss.
Don't give up no matter what. I am fully aware that this is easier said than done and you may feel like you want to give up at times, but patients is a virtue as they say. Some things may take longer to complete, you may need assistance completing certain tasks but there's nothing wrong with that. Furthermore, it's also completely ok to ask for help when you need it. There's nothing wrong with needing help when you're struggling.
Contrary to common beliefs, having a visual impairment has so many positives and it can teach you a lot about life. When you are going through a rough patch, it can often be hard to find the positives but if you try hard enough, you will find so many. Your sight loss journey may not seem all that great right now, but it can be truly wonderful if you let it.
Although you can't see the world like everyone else, sight loss does not deprive you of your skills, abilities, passions and the determination to get to where you want to be in life. Although you can't see the world around you, you are able to see things in a new perspective.
Your sight loss may feel like it is controlling every aspect of your life, but you are so much more than your disability.
I really hope this post is a positive message for people that have recently been diagnosed with sight loss and that you take something from it. To be completely honest, I just wrote this post straight from the heart.
Do you have a positive message to share? Leave it in the comments.
If you have recently been diagnosed with sight loss then I do hope that you find my other posts helpful, also make sure to make use of the services on offer to you from both local and national organisations for example.
Remember that you don't need to have sight to have a vision.
Holly x